NEWSLETTER SUNDAY 9th October 2022
Twenty-Eighth Sunday in Ordinary Time
Parish Mission Statement
Our Parish seeks to live as a family – supporting one another, open to all comers, and building a community where each person feels wanted and cared for. To make this happen, we will work to grow in holiness through prayer and service and we will try to show God's love in our daily lives. Ceremonies available on the parish webcam.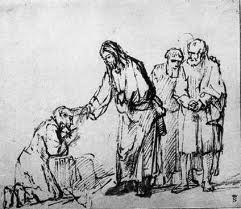 Prayers + Readings on page 363 St. Paul Sunday Missal 2022 Cycle C
Your prayers are requested for the souls of Eileen Brien and Ann Thornbury who died recently, and for Bernadette Kennedy, Kathleen (Chic) McGowan & Ashling Fowley whose anniversaries occur around this time.
MAY THE SOULS OF ALL THE FAITHFUL THROUGH THE MERCY OF GOD REST IN PEACE. AMEN.
October Mass times and intentions
Saturday 8 October 2022
10 a.m. – Celebrant's Intentions
5 p.m. – Margaret (Peg) Noble- Month's Mind
Michael White, Brendan Barnes & Joseph Corcoran- anniversaries
Tony O'Grady- anniversary
Tom & Peg Maloney- anniversary
Thomas Goode- recently deceased
Mary Chundee- recently deceased
Sunday 9 October 2022
9 a.m. – Patsy Cremin- recently deceased
Frank Archbold- recently deceased
James Slevin- recently deceased
10.30. a.m. Paddy Breslin- 5th anniversary
Frank Archbold- recently deceased
Brendan Noone – recently deceased
Mena Lincoln - recently deceased
12.00 noon Alice Gray- anniversary
Anthony Byrne- month's mind
Larry & Nora O'Toole-anniversary
Frank Archbold- recently deceased
Monday 10 October
10 a.m. – Special Intention
Special Intention
Special intention
Tess Cremin Rec. Deceased
Tuesday 11 October 2022
10.00 a.m. - Fergus O'Brien- recently deceased
Michael Smith - recently deceased
Special Intention
Mena Lincoln - recently deceased
Wednesday12 October 2022-
10.00 a.m. - Holy Souls + Kathreena Pallippatt – anniversary
John Farrell Rec. Deceased
Thursday 13 October 2022
10.00 a.m. - Parishioners' Intentions
Friday 14 October 2022
10.00 a.m. - Tom Fitzpatrick anniversary
Michael Gannon- R.I.P.
The monthly church door collection for the Society of St. Vincent de Paul takes place next weekend 15/16 October 2022. Please give as generously as you can.
FAMILY MASS 12.00 noon Sundays
Children are encouraged to take an active part in this Mass through reading, singing, and drama.  Children preparing for the Sacraments of First Holy Communion and Confirmation are particularly encouraged to take part.  There is a practice on Thursday from 4.00 pm to 5 pm in the Church.  Parents are encouraged to attend this practice and we will be pleased to hear their suggestions and ideas.  If your child is unable to attend on a Thursday, please attend the Family Mass on Sunday. 
Tuesday 7.00 p.m. 11th October 2022- Meeting of Parish Advisory Finance Committee at Resource Centre.
Thursday 7.00 p.m. 13th October Parish Liturgy Team meeting at Resource Centre.
Altar List of the Dead- November 2022
November- the month of the Holy Souls -is when we remember our dear departed and pray for them. Mass is offered for those named on the annual Altar List on the First Friday of each month. Envelopes & Lists for this purpose are available on the tables near the church doors and may be filled in & then returned to the church safe or to Parish Office.
 The annual Mass to commemorate those whose funerals were held at Holy Family Parish Church during the year up to the 22nd October 2022 will be celebrated at 7.30 p.m. Monday 7th November 2022.
Trocaire Lenten Collection 2022 raised € 2,420 in the parish. It has been sent to Trocaire. Thank you.
 If interested in joining a Parish ministry, please contact one of the clergy.
Catechism of the Catholic Church
Catechism as the "sure norm for the teaching of the faith".
Catechesis makes the message contemporary by presenting it to a particular time.
It is both biblical and liturgical, a proclamation, that fosters the internal unity of the church.
It allows the laity's faith to grow and mature into responsible participation in the church's life.
It offers the Gospel message to all who wish to acquaint themselves with what the Church teaches and tries to live.
Diocesan Collections x 2-The First Collection at Mass on Sundays/ Holy days, along with Christmas, Easter & Summer Dues, is a diocesan collection for the support of the priests of the parishes and for the sick and retired priests of the Dublin Diocese. It is known as the "Common Fund".
 The Second Collection at Mass known as "Share" supports the diocesan administrative and infrastructural services, diocesan pastoral services as well as subsidising diocesan/ parish projects. The Share collection may be replaced by a special diocesan collection as announced. Alternative Option, you might like to use the Tap & Go devices in the church for the 1st & 2nd Collections. All tap & go donations are divided 60% Common fund & 40% Share.
Parish Support Fund- weekly donations-Your weekly donations (Voluntary Family Offering) are vital for the running expenses of the Parish. Parish upkeep depends on your contributions to this fund. Standing Order Forms are available on the tables near the church door. if you would like to fill in one and return it to the office/ safe in the church when convenient. You have been very generous with your contributions to the parish upkeep fund. Thank you.
Tax Back Returns 2021-The CHY3 Forms for the tax rebate scheme 2021 have been posted. S.A.E, return envelopes were not included in order to save parish funds. Please fill out the forms and return them to the parish office or to the big safe in the church. Thanks.